MC45 Wireless Mobile Computer (Kit, Includes Handstrap, Power Supply, Micro USB SYNC/Charge Cable) - (KT-MC4597B-BSC)

Description: MC45 Wireless Mobile Computer (Kit, Includes Handstrap, Power Supply, Micro USB SYNC/Charge Cable)
Manufacturer:
Symbol
Product Line:
Zebra MC45 Wireless Mobile Computer
Part Number:
KT-MC4597B-BSC
MC45 Wireless Mobile Computer (Kit, Includes Handstrap, Power Supply, Micro USB SYNC/Charge Cable), KT-MC4597B-BSC, Mobile Computer, Wireless Computer
MSRP:

$1,450.00
Discount: ($386.66)
You Save: 27%
See Price in Cart
Add To Cart
*The displayed image is for the Symbol Zebra MC45 Wireless Mobile Computer product line and may not be the exact image of the KT-MC4597B-BSC
Symbol Zebra MC45 Wireless Mobile Computer
Regardless of whether you are a small or medium-sized business, or in an emerging market, or if your field workforce is repairing equipment, writing sales or picking up and delivering shipments, they all have one thing in common - they are your daily touch point with your customers. How fast and how well they perform their jobs directly impacts your revenue, customer satisfaction, customer retention - and the cost of your labor pool. The MC45 is the affordable way to give your workers the real-time information they need to get the job done right, right on the spot, preventing lost sales - and lost customers. Your workers get the sleek consumer styling and one-handed operation they expect, along with the features, durability, security and manageability your business demands.
Recently Viewed Products
---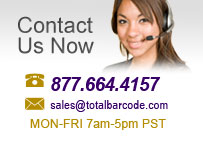 SSL Certificate