Duratran II Thermal Transfer Labels (2.05 in. x 5.0 in. - 1,170 Labels-Roll, 8 Rolls-Case) - (E14516DT)

Description: Duratran II Thermal Transfer Labels (2.05 in. x 5.0 in. - 1,170 Labels-Roll, 8 Rolls-Case)
Manufacturer:
Intermec
Product Line:
Intermec Duratran II Labels
Part Number:
E14516DT
Duratran II Thermal Transfer Labels (2.05 in. x 5.0 in. - 1,170 Labels-Roll, 8 Rolls-Case), E14516DT, Labels, Thermal Transfer
Please Call
This item has special requirements that require the assistance of a sales representative. Please call 1-877-664-4157 for assistance.
*The displayed image is for the Intermec Intermec Duratran II Labels product line and may not be the exact image of the E14516DT
Intermec Intermec Duratran II Labels
A stocked coated thermal-transfer paper label the Intermec Duratran II exhibits excellent print quality when used with the appropriate ribbon. Featuring a permanent glove-friendly adhesive the Duratran II is recommended when moderate abrasion heat or sunlight is present. Special adhesives are available with custom orders.
Recently Viewed Products
---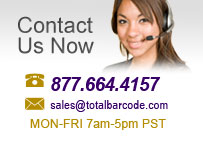 SSL Certificate